Power Breakfast At Marriott Putrajaya
Me, Razin and Suffian thought there would be traffic jams here and there (normal lah, every Monday kan?) and left KL early to Putrajaya for a meeting with our client, but to our surprise the roads were extremely clear and we ended up minum lelama and bersembang panjang.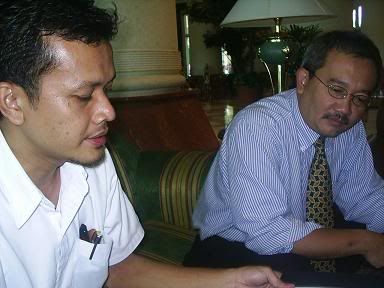 Suffian and Razin, serious kunun...
And what did we talk about? This weekend...
This weekend, we will start doing the 'collage' for our client and moving on to the next stage of our exhibition project.
And we want to do it all in Melaka – kononnya dapat idea mencurah-curahlah.
We'll be staying at Suffian's place (dia ni architect, ID expert, semualah – rumah lengkap nih...dapur complete...).
And I will be the weekend's tukang masak.
I will be cooking Nasi Farsi, Sambal Udang, Ayam Bercili and broccoli.
Selamat menghidu.