I LOVE THE 'IKAN JACKET' AT HUSNI'S 'KEDAIMAKAN'
When I was a student at MCKK I hated ikan jacket.
From Prep School sampai Big School, kalau ikan jacket served for lunch, I bagi kat member sebelah.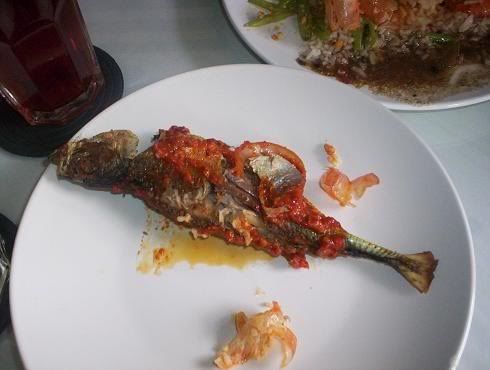 Ikan jacket
But now, my favourite ikan is ikan jacket.
Earlier today, me, Papa Khalid, Abang Polis and Anis went to Husni's new restaurant KEDAIMAKAN at Damansara Perdana.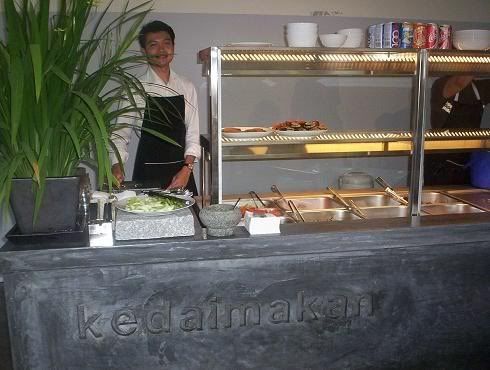 Husni with the 'fantasy' apron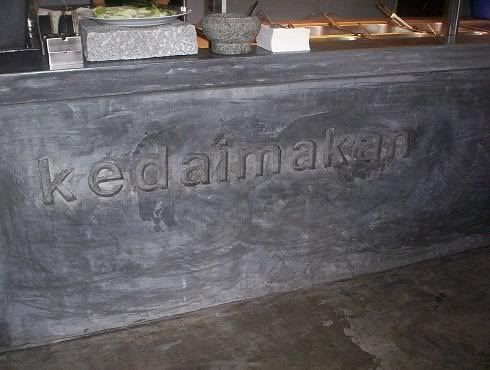 Ala Batu Bersurat
Pose maut by Husni
The food – finger licking good.
Masakan orang Kedah memang best.
Husni ni memang great host – Sometimes I dok pikiak where Husni gets his energy. Kalau hari tak kerja jadi pilot MAS, dia jadi host kedai makan and tokay art gallery (Gemarimba Private Gallery kat Bukit Tunku). Mesti makan makjun kuat nih...
Anyway, the menu for today:
Udang masak lemak nenas.
Pedal dan hati ayam goreng kunyit.
Daging goreng jintan.
Ikan jacket berlada.
Sayur taugeh campur brocolli.
Tokua bercili.
Ayam masak kicap.
Kita makan tambah dua kali sampai mengantuk.
Kedai dia on the ground floor, last block kat Damansara Perdana right across from Armanee Terrace.
Alamat dia A.G.03, Perdana View Condo, Damansara Perdana.
Pergilah, dan jilatlah jari (jari sendiri..make sure..jangan jilat jari orang lain, kecuali setelah mendapat kebenaran tuan punya jari)