ADNI Fund Raising Dinner & Show
I had a great time last night, being the emcee, for the Fund Raising Dinner & Show for Sekolah Islam ADNI at PWTC.
Why?
Simple... They (the big ADNI family) were just so nice and professional.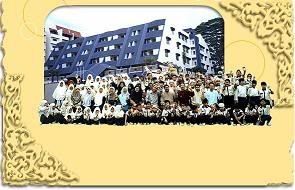 Pic from www.adni.edu.my
I worked closely with the CEO & Principal, Brother Hasni Mohammed (kalau ramai HM kat M'sia macam ni, ramailah budak bagus-bagus terhasil from the school system).
Puan Zaiton was great, Puan Laili –Charming, The Choral Speaking Teacher Azeera Mahyuddin – fun.
And of course Ir Dr Fauzi Abdul Samad, the Executive Chairman is the 'perfect' father figure that ALL schools must have.

Pic from www.fotosearch.com.
I guess they are doing something 'very' right – as the students were told a very young age to be responsible as the Khalifah of Allah -- they have to be good, help others to become good and make the world a great place for everyone.
And the result -- brilliant, confident students. They were so professional in handling the show and peramah, sopan-santun yet know how to have fun.
The school is trying to raise funds to build a RM1.5 million community centre to showcase the culture of excellence in the Islamic world – great effort.
If you want to know more, give them a call at 03-42525810, or visit their website at www.adni.edu.my.

Pic from www.fotosearch.com
Kalau I ada anak, I'll definitely send them to this school. Impressive. They teach in English, Arabic and Malay.
The event also gave me the chance to touch base balik with Nusantara Gems' big boss Datuk Raja Shah Rezza – still as good looking as ever.
The people from Nusantara Gems were very professional too. Enjoyed working together with Afiezan Shah. Tuah was great too. So was Salman, Wan and the rest of the gang.
And of course my good friend Mazlan Rasheed of NTV7 was there with Tengku Nurul Kamalia.
Great to jumpa balik Yassin and Brothers – lama tak jumpa.
And thank you to the ADNI Alumni – especially Shahid for the great CUE!!
After the show, lepak at Pan Pac with Razin and Jugek.
Reached home at 3 am. And bangun today at 7.00, lapar and terus pick up Mokciknab makan breakfast TANPA MANDI... Apa nak jadi...
BTW I also met someone interesting last night and now I believe that you can actually 'fly' a motorboat from your bathroom!! Jeng-je-jeng... nak tahu? Tunggu....