INTERVIEW WITH YANG AMAT MULIA TUNKU ISMAIL IBRAHIM, RAJA MUDA JOHOR
Yesterday, I was very honoured indeed to be given the opportunity to interview Yang Amat Mulia Raja Muda Johor, Tunku Ismail Ibrahim.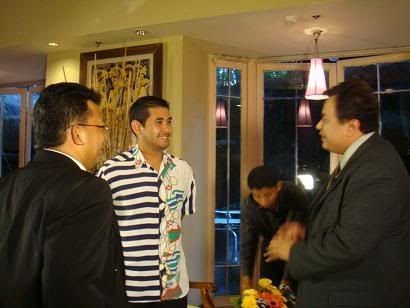 YAM Raja Muda was very nice to me and the AWANI crew. Tunku was very brilliant and after a very short briefing (not even 3 minutes) His Highness was ready to answer all my questions for VIP AWANI which will be shown soon.
The Raja Muda, from the 30 minute interview, I gathered, is very well read and a very confident prince, in other words brilliant!!
His Highness also has a good sense of humour.
You must see VIP AWANI with YAM Raja Muda Johor where Tunku Ismail talked about cottage industry and empowering the rural folks, the need for Malaysians to reap the benefits of ICT and making royalty relevant in the knowledge economy era. -- Coming soon on ASTRO AWANI.