MINOR ACCIDENT -- WHAT A DRAMA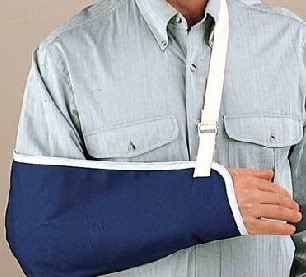 I have decided not to wear the arm sling as it's a hassle!!
It was just painful to do the Touch-N-Go at the Toll Plaza.. Ohhh.
What happened?
Well, it was raining heavily yesterday and I was running to my car after a reflexology session at Taman Tun.
I tripped and fell on a moving car, and the impact made me berpusing 360 degrees and fell on the road, landed on my left arm.
Thank God the car was moving slowly.
The driver came out of the car and rushed to me and said.. "Oh no, did I hit you?"
I said "No, I hit you..."
It was not so bad. A bit painful, but I managed to go to my car, drove home and sapu Yoko--yoko...
Suddenly I became sad and cried and uttered "Nobody loves me..." WHADDA....
Dah giler gamaknya.

Not until later at night... it became swollen and blue and only after that I went to see a doctor...
Biasalah, I takut doctor...

So this morning, I brushed my teeth using my left hand, and didn't shave and didn't blow dry my hair as I was not able to do it with my left hand...
-------------------------
Dr Azam, everyone's favourite pediatrician called at around 11:30 in the evening and asked how I was doing and asked me out for teh tarik. I said yes...
We talked about how not to let emotions dictate our actions and run our lives. And how TLC is so important, expecially when a human being langgar kereta, not the other way round!!!
I was so touched when Jef checked on me at 2:00 in the morning to find out on the condition of my right arm... Baik jugak budak ni (I said to myself)...
--------------------------
Dear Hamzah Abdul Hamid of KOSMO,
Thank you for the nice report about me in your Sunday Edition.
I want to ask you out for dinner -- to say thank you. When lah u free?
----------------------
Dear Ms Estefan,
Your song is killing me... It's o..so true...
Anything for you
Though you're not here
Since you said we're through
It seems like years
Time keeps draggin on and on
And forever's been and gone
Still I can't figure
what went wrong
I'd still do anything for you
I'll play your game
You hurt me through and through
But you can have your way
I can pretend each time I see you
That I don't care and I don't need you
And though you'll never see me cryin'
You know inside I feel like dying
And I'd do anything for you
In spite of it all
I've learned so much from you
You made me strong
But
don't you ever think that I don't love you
That for one minute I forgot you
But sometimes things don't work out right
And you just have to say goodbye
I hope you find somone to please you
Somone who'll care and never leave you
But if that someone ever hurts you
You just might need a friend to turn to
And I'd do anything for you
I'll give you up
If that's what I should do
To make you happy
I

can pretend each time I see you
That I don't care and I don't need you
And though inside I feel like dying
You know you'll never see me crying
Don't you ever think that I don't love you
That for one minute I forgot you
But sometimes things don't work out right
And you just have to say goodby

e
------------------------