AWANI -- SURVEY BY ZENTRUM FUTURE STUDIES MALAYSIA
Good news for me and the Astro AWANI family.
Zentrum Future Studies Malaysia, headed by Dr Abu Hassan Hasbullah did a survey on the media and public perception of the media during the General Election period.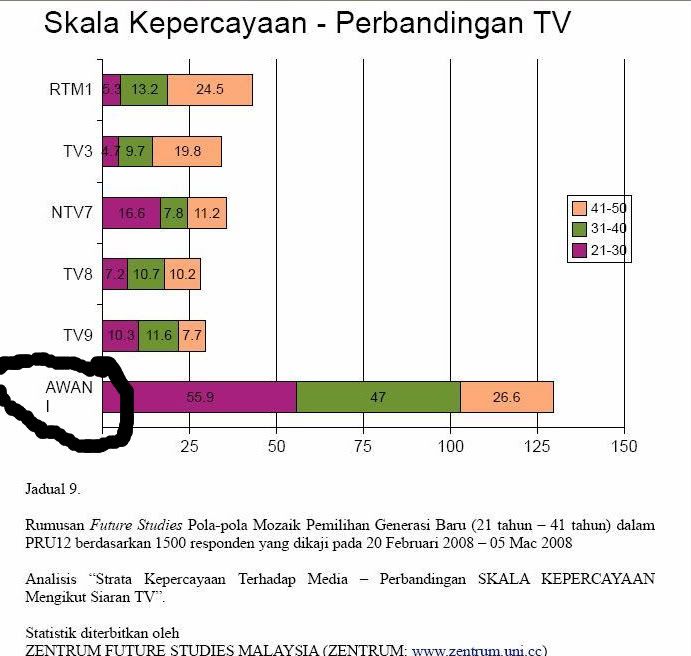 Titled "PILIHANRAYA UMUM MALAYSIA KE 12: PENGARUH KEPERCAYAAN TERHADAP MEDIA DAN KESANNYA TERHADAP BENTUK & CORAK PENGUNDIAN MALAYSIA", the research focused on the perception of people in the 21-41 age group.
And AWANI came up top in the TV category.
Yeahhh.....
--------
Ian and Nadia were in Phuket for their honeymoon.
I was there too with J, tapi kita tak jumpa pun..
Mesti tengah enjoy sakan... Hmmmm...
When my Mom sees this blog, I can imagine her line --

"kawan-kawan kau sumo dah kawin dah, ekau ni bilo layi. Copek lah, omak dah tuo ni...."
Below is the pic from Ian & Nadia's wedding reception.
V
V
V
V
V