MCKK -- TEMPAT JATUH LAGI DIKENANG....
Tempat jatuh lagi dikenang....
It was a fun MCKK Old Boys' Weekend (Apr 18-20, 2008).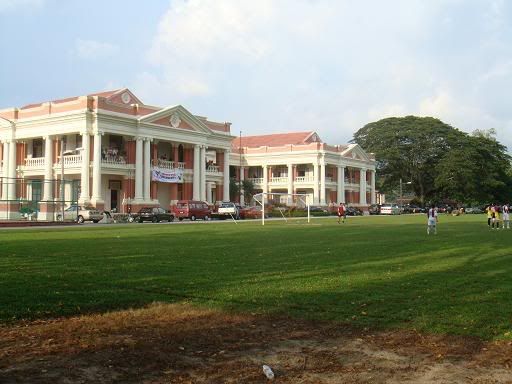 Moqq, Jef & I, left KL at 5:30pm, Friday, in my new car and we arrived in Kuala Kangsar 2 hours 15 minutes later.
As soon as we arrived in KK, we checked in at the Sg Perak Resort before heading to a 'happening' (more pening than happening) Tom Yam place, kat Talang, for dinner.
Yes, patience is a virtue. We waited for like 45 minutes for our lauk to be ready. But then, ini Kualer, laid back sikit, tak mahu tension-tension babe, after all we were there for our yearly therapy -- bonding with the people that we shared toothpaste with, shampoo, kacang bulat, baldi and lots of other stuff...
From the old boys of the 50s to present boys, we mingled, shared experiences -- learning from other great men -- all products of The Great Malay College.
On the rugby field, Jef was a hero.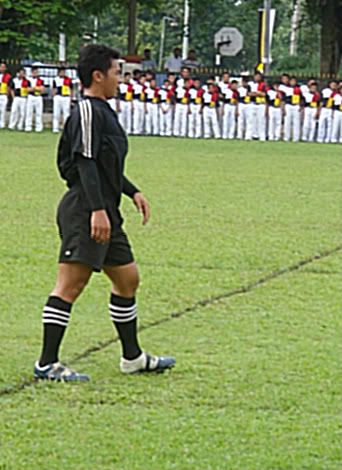 Jef in action
Moqq played rugby too -- the last couple of minutes....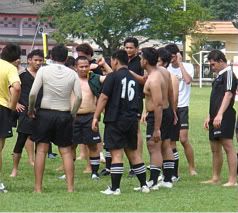 Moqq and the team after the game
I played 'paparazzi' .. I guess that explains why I am a journalist today.
I managed to catch up with some of my batchmates -- Ahmad Nasharuddin Hamzah, Zaharidan Zainal, Abdullah Arshad, Ariff M Noor, Dr Syed Zulkifli Syed Zakaria, Hasnan Yunus and Zainudin Kamaruddin.
My colleague and the famous AWANI news anchor, Rizal Zulkapli was there too.
Overall, it was just divine, and so difficult to describe... I'll let the photographs tell the story.
And Moqq, it was a fun late night till morning chat and I didn't know you also like the same songs... Hahaha...
At the dining hall
Jef still sleepy at breakfast after late night sembang with his batchmates
Moqq to Milla "baru nak breakfast, Che Mie ni bersiap lama sangat..."
Datuk Latt Shariman collecting materials for his Facebook
Hasnul, yes he is Kam's brother.
Tuah
Datuk Latt again...
Tunku Datuk Ahmad Burhanuddin Tunku Datuk Seri Adnan and me
Farid
MCOBA President, Datuk Seri Megat Najmuddin Megat Khas
Ariff, En Jamal and Dr Syed Zulkifli
Dollah & Lanun
Kudin
Moqq
Nasha
Kudan

Kudin and a junior
Me & Rizal at the pool
Kichi
Hasnul