iPod Touch and MotoQ
"The iPod Touch!!! It's so cool...."
"Nanti I bagi u software dia...."
"Alah Jeff, tak payah... I ni lawa jer, modern-modern stuff ni I tak pandai nak configure... Why don't you just transfer jer semua lagu, movies, gambar dalam iPod Touch tu... Dah siap nanti I touch screen jer and enjoy them...Nak harap I baca instructions dalam handbook tu, it will never happen...Lagu Ahmad Jais kena ada tau.."
"OKlah... and you want me to set the MotoQ too? Since I'll be at KLCC, I can stop by at Maxis and ask them.."
"That would be good Jeff. Just tell the Maxis people, the owner of the MotoQ tu lawa jer tapi tak reti nak guna phone for push-mail etc ni..."
"OK lah... I'll see you later after the rugby game..."
"I just need the car after my last 'live' Analisis-Pilihan Raya programme. I'll be done by 10:00pm. But I might just sleep in the office as I have to host tomorrow's show at 7:30 am. Kalau balik rumah, mesti tak boleh bangun"
-------------
It has been a great and productive Sunday. I was at the office sejak subuh lagi.
Then at around 9:00 am, I went and had the best nasi lemak with Jeff at the Nasi Kandar restaurant right next to Ampang Park LRT and Nikko Hotel.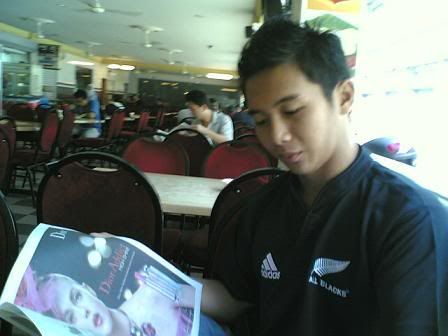 Jeff 'consuming' the Sunday papers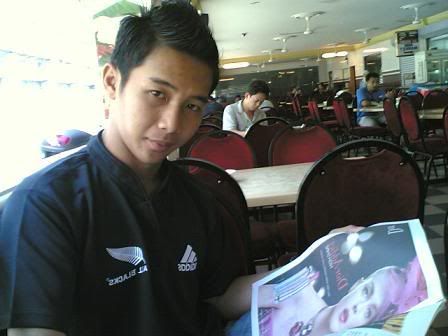 I needed the extra energy to host the 'live' discussions from 1 pm to 10:00 pm. It's Nomination Day!!!!.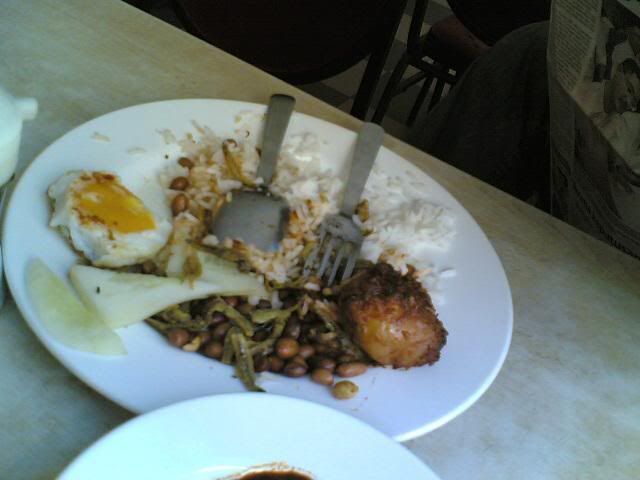 Our 'squawk box' went really well. In my 18 years of TV journalism, I must say, the AWANI Squawk Box is the best ever. Had fun bantering with the guests, Prof Dr Chandra Muzafar, Assoc Professor Dr Azmi Hassan, Datuk Akbar Ali and Prof Dr Safar Hashim. And the anchor team of me, Kamarul, Nazri Kahar, Ali Alimin, Zaiful Ariffin, Syed Farradino and Ashwad, memang serasi....



Ashwad and Dino ...

Now, almost midnight, I still feel the adrenalin and all.... macamana nak tido ni...




---------------------

To Morkymoqq --- we'll start right away, yeah...coz within 5 years we will be so darn good....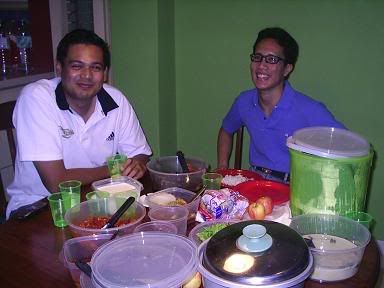 Moqq and Kichi
----------------------