BANDAR SERI JEMPOL
At 10:20 am, Saturday.
"Where are you now?"
"We just left KL, Jef...Kat Sungai Besi toll. Suria is driving, I'm the co-pilot. It's the same road macam pergi Istana Seri Menanti, right?"
"Yes. It is easier if you take the Senawang exit. From Kuala Pilah, you drive on to Bahau, then Bandar Seri Jempol..."
Later at around 12:00 noon.
"

You on the right track?"
"Jef, the signboard says Era Resort or something...."
"Yes, yes... just straight ahead, turn left at the Bahau Railway Station... You should reach here in 30 minutes... "
"Oh
no, we must arrive before pengantin lelaki..."
At 12:45 pm...
"Jef, I think we all sesat ni... Ada Kilang Kelapa Sawit when I turned left..."
"No... further up...lookout for Pulapol... Follow the way to Pulapol...My brother in purple shirt is at the check point waiting for you..."
And finally 3 hours later, at 1:00 pm, Dangsuria and I reached Jef's house at Felda Serting Hilir 6, Bandar Seri Jempol.
Jef and his dad
It sure was a nice break from the normal weddings in KL where they would normally give almost 100% freedom to Pak Abu or Rizalman to provide the wedding 'magic'.
At Jef's house, there were Mak Long and Mak Ngah and the rest of the clan preparing the lauk-pauk. Pak Ngah was liaison officer. And of course young Jef and his 2 younger brothers running here and there doing their best to make all of us feel at home.
Jef's parents with me and Suria
Abang Mustafa (Jef's dad) and Kak Norizan (Jef's mom) made me and Suria feel like we are part of their family with their warmth, budi bahasa & sopan santun and they really took care of both of us over the 3 hours we were there -- at times more than other guests.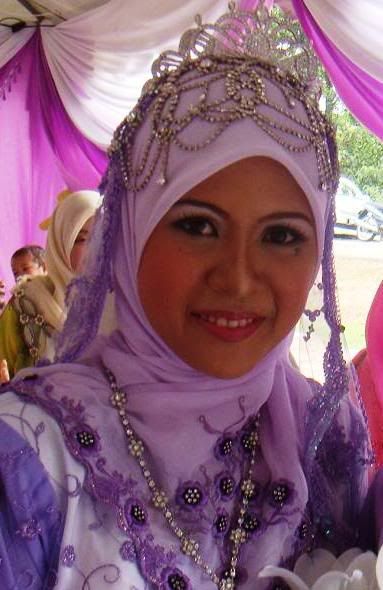 The pengantin perempuan, Zailena, the eldest in Jef's family was a beautiful bride. The USM graduate is a teacher at a school nearby and the groom, Zaki, is an engineer who works at Port Dickson.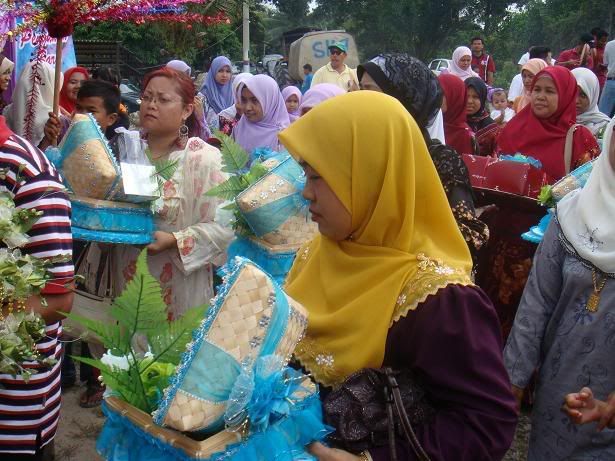 We ate twice (nak buat macamana,orang dah mintak dan lauk dia sedap). First, as soon as we arrived and later when Jef's dad invited us to sit next to the bride and groom at the main table. Apa lagi... bedal jer lah. And I felt very much at home. Just like being around my own saudara-mara.
Suria and I left Felda Serting Hilir at about 4pm.
The beautiful family
To Jef and family, thank you for inviting us. Your kindness touched our hearts. The 3 hour journey from KL was real magic.
Pulau Pandan jauh ketengah
Gunung Daik bercabang tiga
Hancur badan dikandung tanah
Budi yang baik dikenang juga