Happy Birthday Husni
Yes, today we'll go berbuka puasa at Husni's house to celebrate his birthday. And best of all Husni's mom will cook. Auntie ni kalau bab masak lauk Kedah ni memang sedap. Makan kat Balcony Armanee on the 5th floor ni memang best. View dia, hutan yang belum digondolkan.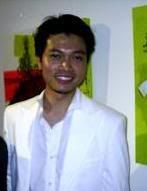 Birthday Boy
Oh...The exhibition at Husni's Gemarimba Gallery is still on. Go and see. Best. Address dia, B-8, Taman Tunku, Bukit Tunku. Kalau sesat, call 03-6201-3505.
BTW, Zarif, if you are reading this blog in Brisbane, just want to tell you that me and C'Kam met your mom 2 days ago to discuss a branding/positioning collaboration.
Ok for now… Got tons of work to complete.