Another beautiful Journey
No, I didn't have to drive alone to Melaka as Razin and Don decided to wait for me instead of going to Melaka early. So nice of them...
We went in Razin's car.
We left at about 4:15 pm after I finished my talk on "The Changing Landscape of the Media in Malaysia" at Malaysia Institute of Integrative Media.
As usual we cracked jokes and laughed non-stop throughout the journey.
Don making us laugh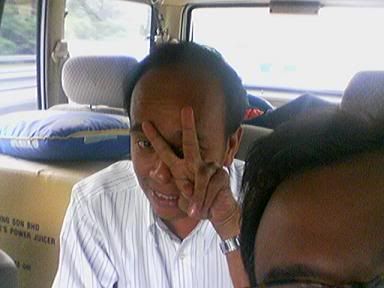 Don again
But the traffic near the Seremban toll was just so bad. Dari dulu sampai sekarang.
When is this going to change? Entahlah...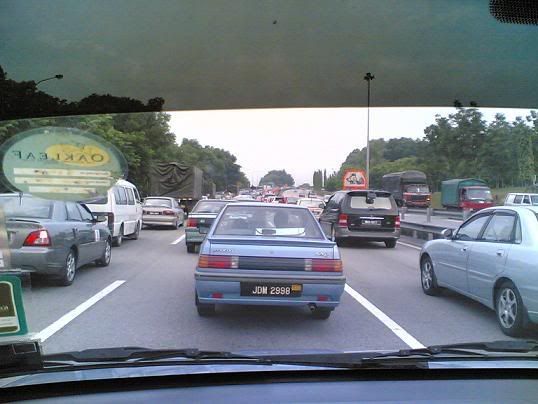 Dari 4 lorong jadi satu lorong, kemudian 2 lorong.
We stopped for a while at a rest area after Seremban untuk sembahyang.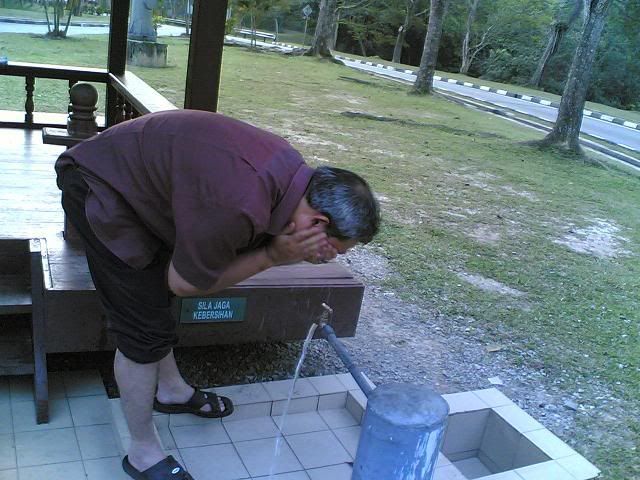 Razin ambil air sembahyang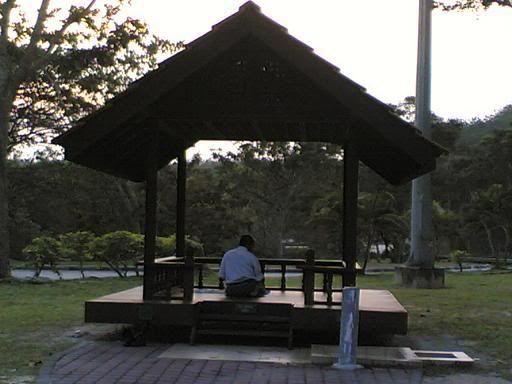 Don tengah sembahyang
We arrived at Smartshop Melaka at Mahkota Parade to deliver the barang-barang at about 8 pm. Razin was such a great leader – the Managing Director of Smartshop, he himself helped to deliver the goods, bertanya khabar... baru orang respect.
After unloading, we went straight to the Serkam/Umbai Medan Ikan Bakar and had dinner at about 8:30 pm.
And I finally got my kupang. We however were quite disappointed because the kupang tak fresh dan kecut. However the fish was fresh and the crab was yummy.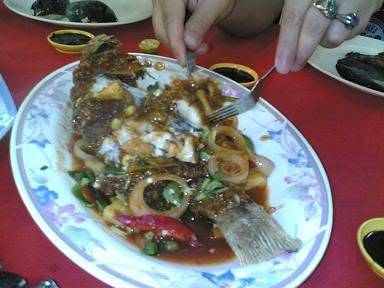 Ikan Tiga Rasa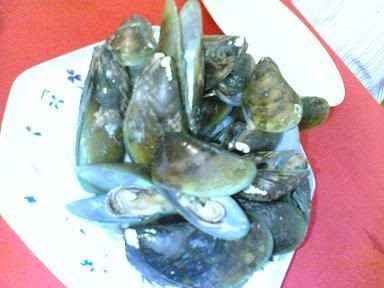 Kupang
After dinner, around 10:30pm, we arrived at Kolej Yayasan Saad to pick up Abang (Razin's son, Rashad) right after the students habis Sembahyang Hajat for the coming examinations.
Abang was already waiting outside the dorm when we arrived, with his huge bag to spend the weekend with the family in KL. Abang has grown into a fine young man. A form 2 student, he's well behaved, polite and very intelligent and likes to ask really good questions. He asked 'Daddy' about the UTP project and upcoming projects.
However, I didn't get to talk much with Abang as right after he finished eating the medium Cadbury Chocolate Bar with Hazel Nuts that I bought for him, he fell asleep. And he slept all the way till KL. He must have had a tiring day at school. He looked serene in his sleep. He would have smiled in his sleep if he knows how Razin talks about him to me all the time and how Razin is so proud of him.
We reached KL at about 1 am. Abang was still 'blurrr' when I said "Goodnite Abang, see you..." Tidurlah...