I'm back with a vengeance.
Kepada pencuri laptop I -- "you ingat I akan mati without my laptop? I dah beli baru pun. Walaupun bermakna I terpaksa berpisah dengan beberapa ribu ringgit. Cis bedebah..."
Anyway, got a new, smaller and lighter laptop -- Twinhead. Mana lagi kalau bukan kat Low Yat.
I went to Low Yat at opening time with C'Kam, my very trusted IT advisor and good friend and also my advisor on other areas too like the meaning of life, love & marriage, sex, murder on the dance floor, colour coordination and all cultured stuff – including yogurt.
Below, see Ian menggodek dan install apa yang patut kepada buah hati I yang baru, Cik Twinhead (kahwin dengan laptop ni senang, tak payah jaga hati, kena jaga jangan dicuri jer)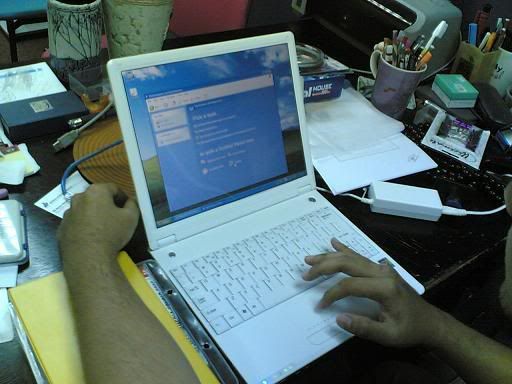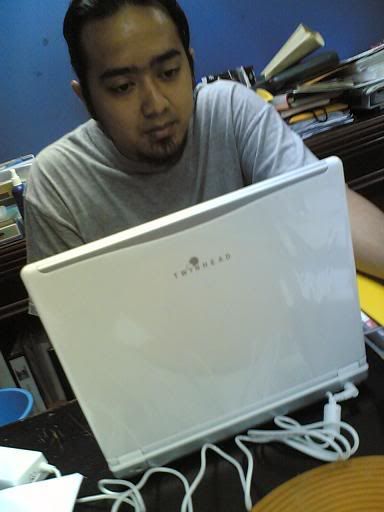 We spent about 90 minutes searching for the right one with the right price.
After that we went to pick C'Kam's daughter, Dina, from school at CBN.
So tonight, I will be making love to Cik Twinhead – sampai ke besoklah dok gerudi my new toy ni.
--------------
Now, something from the recent trip to Pangkor.
I took pictures of 'interesting' bebenda, like 'jangan melintas seperti ayam' and nama feri 'naik selalu'.
Beb, kalau naik selalu, parah gak…