ROCK STAR FOR A NITE
Me singing with the band
Place: Planet Hollywood.
Date: May 15, 2008.
Time: 10:00 pm.
Occasion: My Birthday -- A surprise
I really didn't expect some 30 of my really close friends to be there. I was only expecting 5 to 6 people and 2 tables max.
But Kam, Azman and Azean did their 'magic'. Lengkap dengan buntings and all.
Tolong bagi moral support kat 'penyanyi'
They hijacked my mobile phone, got the phone numbers of my close friends, called them and made them promise not to tell me of the surprise.
The Yang Sisters were there -- Che Yuz (Mrs Kam) & Assoc Prof Dr Yang Faridah.
Moqq and Milla were there too.
Jef who was 'kinda' sick was emaculately dressed for the surprise.
Adrian came with Roul --- hmmmm.
Dino and Schubern made fun of the Birthday Cake spelt 'Shima'.
Eby & wife were there.
And of course the funky bunch from AWANI, led by the draconian Rozy.
And I sang with the resident band like there was no tomorrow and the funky bunch filled the dance floor.
I found out later that Azman also invited Rahmat -- too bad he is in Cannes and can't make it -- it would have been a blast if Rahmat (Mr Cinema) ada kat situ.
Dr Azam was on-call and can't make it.
Thanks everyone -- Zai, Dangsuria, Ali, Zaiful, Fiza, Doria, Samson, Apai, Ian, Nadia, Marliza and the rest.
I love all of u.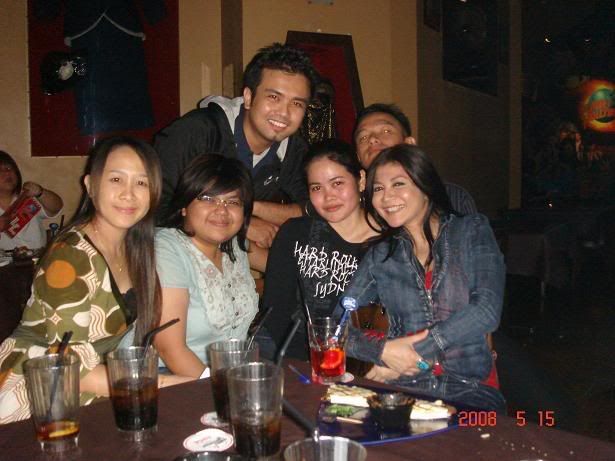 Doria, Fiza, Samson, Azean, Kam & Dangsuria
Rozy, Dangsuria, Jef & Doria memilih cup cakes.
Azean, Fiza, Marliza, me, Kam & Dangsuria.
Dino, Schubern, Ali, Kam, Azman, Jef & Samson.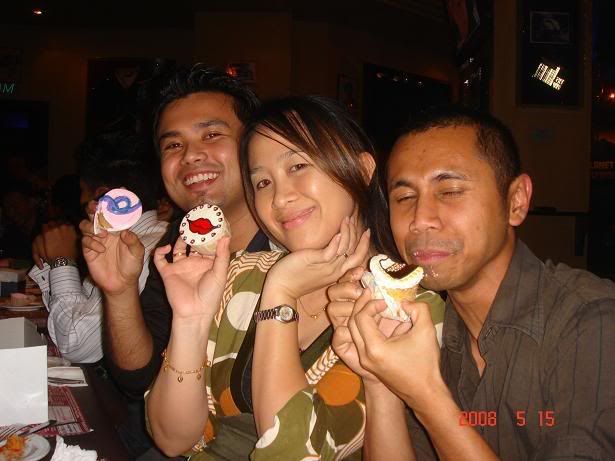 Samson, Doria & Azman
Azman, Fiza & Azean