Telur, melecur ringan, Kuching & Power Breakfast bersama Tuan Kimster
1. Telur dan Melecur…




Lebih 40 tahun, and almost everyday, my fingers would 'melecur ringan' trying to break open half-boiled eggs – sebab telur tu kan panas lepas masak. Kalau nak makan dengan kicap kenalah ketuk dengan sudu, break the eggs into 2 parts and then scoop the egg white and yolk and makan.
Now… tak ada ker 'industrial designer ker' atau any designerlah (..not fashion designer… sensitive wor…after my last posting) yang nak design alat yang boleh tolong kopek telur separuh masak supaya jari tak terseksa dengan kepanasan telur?


Lagi satu, teh tarik served dalam gelas tak bertangkai. Bila pegang gelas di kedai mamak tu, jari jemari kita 'melecur ringan' sebab panas. Tak ada ke pereka-pereka yang boleh reka gelas khas untuk teh tarik – macam beer mug ker, sebab dah sah gelas tu panas..
2. Kuching.

Kuching from my room at Hilton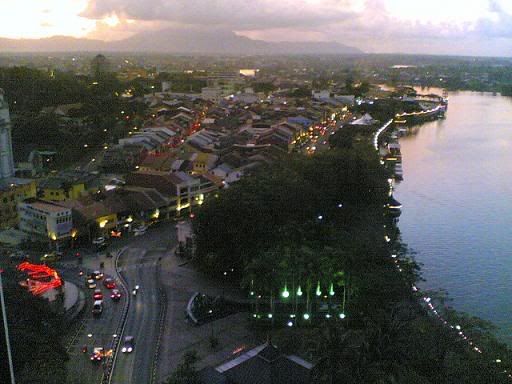 Kuching from my room at Hilton.

Kuching from my room at Hilton.

Got back from kuching yesterday afternoon. As usual, it was fun conducting
"Crafting an Image, Branding & Positioning"
training for UNIMAS.
Prof Datuk Dr Abdul Rashid Abdullah, the VC, and his team, as usual, as energetic as ever and the training session was a very productive and fun one.
Whenever I go to Kuching plan nak diet tak menjadi… Makan sedap betul -- seafood fresh. Had lots of seafood at the famous makan place
Topspot
.
3. Sarapan Kuasa (Power Breakfast) – kalau ikut translation filem dalam DVD.


This morning had a great discussion over breakfast with The Great Kimster and his boss on Oursourcing, Offshoring, Change Management, Capability Building and Engagement.
Great to meet great minds early in the mornig – terus motivated macam nak rak…
Pix from:

1. Camera phone sendiri.
2.
www.fotosearch.com
.
3.
www.singapore.com.tw
4.
www.eastravel.ee