Mee Rebus Johor
They were all talking and promoting Mee Rebus Johor to me.
Yes, at the lobby of Puteri Pan Pacific, Misha Omar and her sister Mimi were 'spokespersons' for Mee Rebus Johor and said I should try it – promote habis beb.
But then it was already midnight and I kalau boleh lepas matahari terbenam tak nak ler makan. Because so far in JB I makan macam lupa daratan coz the food in JB sedap betul especially pisang tanduk goreng.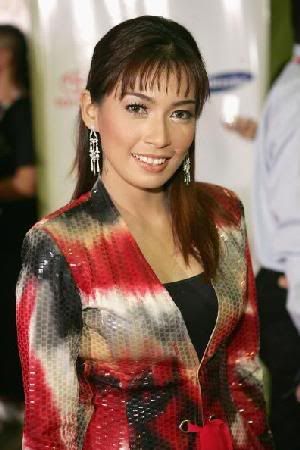 Misha Omar
Misha is such a nice person -- so down to earth, so real and sings so well. We talked about how we can never grow up (from our parents' perspectives) and the need to continue being 'real' in this world.
We all lepak dan sembang panjang together with Azizah Ariffin, Papa Khalid, Dee (of Jangan Ketawa), Comel and the nice people from Johor Port Authority sampai early morning.
I had a good stay at Puteri Pan. The staff semua baik-baik belaka… Well trained definitely…
Puteri Pan Pacific
Note: Misha's photo from www.epochtimes.com