KL Fashion Week
Me and Tank woke up very early for a Saturday to support Bon Zainal at the opening of The Kuala Lumpur Fashion Week 2006 at Berjaya Times Square.
We had breakfast at Discover Café in Desa Pandan, a fast one, and off we went to join Shawati & Hubby and Nina at 10:00 am to cheer Bon. When we arrived, Bon was all excited to showcase his latest jackets/coats/suits and for the first time, formal/casual wear for women.
Tank waiting for makanan.
Bon was there since 6 am and as usual couldn't eat or drink until after the show. I know exactly that feeling.
Bon was the second designer to showcase his creations after Amir Luqman.
Daniel Chong and Faizal Abdullah also paraded their designs in the morning.
Bon all set to 'sashay-shauntay" with his models.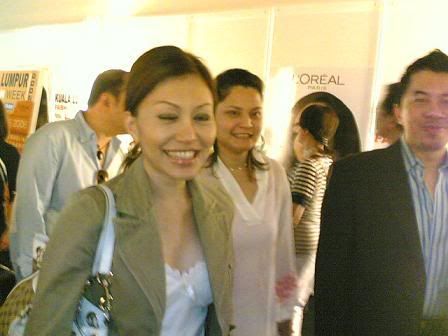 Shawati came to give moral support – best kengkawan macam ni.
My model friend Suhara Omar wearing a Daniel Chong
Later today, we'll be heading to Husni's Gemarimba Art Gallery Open House and Art Exhibition.