Compilation pelbagai cerita dalam masa 4 hari…
Bila kepala berserabut, just pick up something and read.
Perhaps that's why dalam Islam the very first thing dalam sejarah Islam is IQRA – 'bacalah'… and you'll be inspired…
I couldn't sleep, went to my favourite 24 hour makan place and I read a back issue of Madam Chair.
And one of the stories actually inspired me. It was a story about Dr Zaha Rina Zahari – How she pursued her interests in many areas, studies and all, being married at 20 and how to train our 'otak' to always look at/on the positive side.
So, pengajarannya, kalau otak berserabut, jangan pergi bunuh orang, tapi pick up a book and read. Kalau buku tu boring, continue reading and ia boleh tolong kita tidor…
Selamat beramal…
----------------------
Hari Pelabuhan – Lembaga Pelabuhan Johor.
We left Kuala Lumpur very early -- 6:30 on a Sunday morning .
Papa Khalid and I took turns to drive to JB.
The kids (Bari, Putra & Anis) slept like little babies at the back almost throughout the journey.
Putra & Anis
Bari & Putra
With smooth traffic we arrived in JB at 10 am, and Bari's mom, Kim, was ready to receive and 'baby sit' the youngsters over the long holidays.
Next, rehearsal for the Hari Pelabuhan launch -- emceeing with long time friend, Azizah Ariffin. It will be a blast… Also, friends from RTM are also here… Hezle Helan and the rest of the gang are also here… So Puteri Pan Pacific & Persada Johor Convention Centre, meletoplah nampaknya.
Azizah Ariffin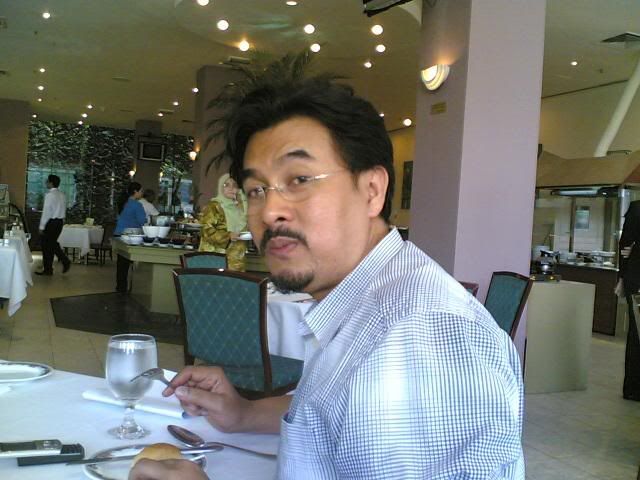 Papa Khalid
Papa Khalid melepak kat lobby Puteri Pan Pacific
Persada Johor International Convention Centre from our hotel room at Puteri Pan
------------------
Two nights before, me, Morkymoqq and Milla had a 3 hour discussion sampai pukul 2:00 pagi on the concept of their wedding reception.
Jangan marah – it could just be the wedding reception yang amat meletop…
Milla, Moqq and Me
------------------
And kalau kepala berserabut lagi, pergi salon Richard and get Ayun to do magic…
Ayun.