The fun Biomedical Imaging people.
On Saturday, together with Cekem and Ian, we conducted a Training on Public Speaking and Presentation for the Centre for Continuing Biomedical Imaging and Education, Department of Biomedical Imaging, Faculty of Medicine, UM.
It was a blast.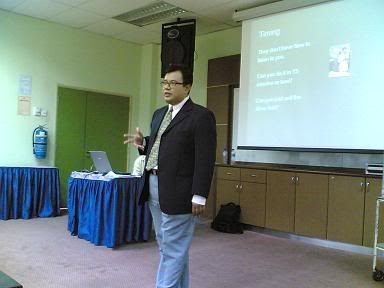 The lecturers, tutors, senior radiographers and Masters students were great.
They have great sense of humour.
Special thanks to Prof Madya Dr Yang Faridah Abdul Aziz who helped organize everything.
It's great to know that people in the medical profession put great emphasis on communications skills.
I enjoyed myself conducting the workshop -- a lot more fun than reading the papers with stories and spins that point to the sad fact that the country is facing a bit of 'confidence crisis'. Ooopsss.. menyimpang -- my blog is a fun blog .. Penat serious serious nih... nanti kena 'pajit' lak...