Pukul 4 pagi...
Got back from Tronoh at 4:00am this morning after a meeting and follow-up works before we handover the exhibition hall to UTP.
Mirza doing the touch-ups.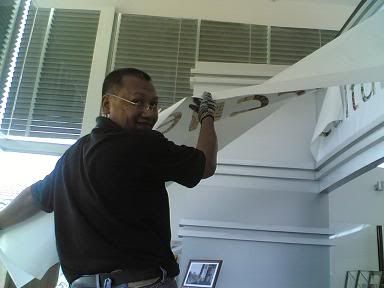 4:00 am? Why so late? Because time flies when you are having a good time -- we love doing what we do best!! -- only to realize dah 11 malam dah!! Oh tidak... You know lah jalan kat sana tu extra sunyi (background music: silalah main lagu Twilight Zone) Not to mention the various cerita hantu yang dah diriwayatkan oleh kengkawans at UTP).
Razin drove masa pergi Tronoh and also balik and I belajar nak pakai my new 3G phone... I ni slow sikit coz tak tech-savvy like my nephew.
Razin was the designated driver as my back and side muscles ada sikit koyak as a result of lifting heavy objects. Dah tua dah...
On the way back, Razin decided to stop at Rawang to sleep as both of us failed to keep each other tak mengantuk – even cerita hantu and sex stories pun tak boleh lawan mengantuk. Kuaci pun tewas!!!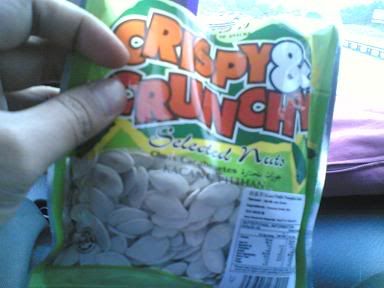 Makan kuaci pun tak leh hilang ngantuk
So we tidok sat and snored like mad.
I wonder how Razin will manage today as he needs to go to Melaka to celebrate his son's birthday at Kolej Yayasan Saad.
Anyway, The Culture of Excellence in the Islamic World project really brought the SSO and the Netwide Family closer together. If dulu our 'adik-beradik' comprised of Mokciknab, Cekem, Papa Khalid, Ian, Rizal (and now tambah lagi 2 interns -- Mar and Ashwad), sekarang ni we have a bigger stronger family as a result of the 'union' with Razin's team. Pusing-pusing, budak Kolek jugak. Belajar kat MCKK ni macam diberanakkan semula dalam womb yang amat special. We not only take care of each other but we protect each other sampai mati -– only budak kolek will understand.
Cakap pasal budak MCKK ni, shortly I will go out with Papa Khalid nak pergi beli baju Melayu for Wawa's wedding -- budak kolek gak (Morky Moqq tu dah komplen I ni balik-balik pakai baju Melayu purple jer. Memang, that's the only baju Melayu yang boleh pakai-- lain ketat beb)
Me and Ikram taking a break.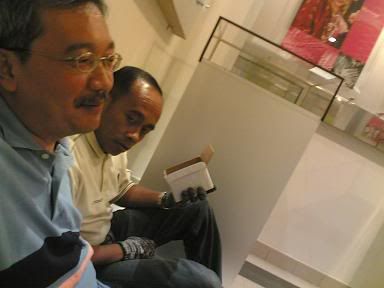 Razin and Khairul relaxing (Khairul now is also known as Don... hmmm apasal Don? Rahsia...)
Pak Su Jugek.
Ikram and Pian senang hati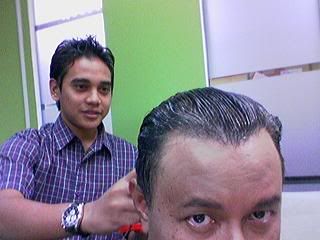 Ashwad cuba bakat colour rambut
And bila kita buat project baik, Tuhan balas cash beb... An important man with the money and connection has been 'studying' us and we are now preparing for a bigger exhibition and will soon spread our wings to Dubai and London.
So to my ex-boss, Datuk Khalid Ahmad (a.k.a Kelly – kalau kat MCOBA functions) who has been inviting me to join him in Dubai, see -- I told you, we will be there someday – and it's sooner than you think...
------
Before the trip, on Thursday, my students came to the office for a visit. Lihatlah gambar mereka di bawah ini.
Hilmy, Ku Hafidz and Eric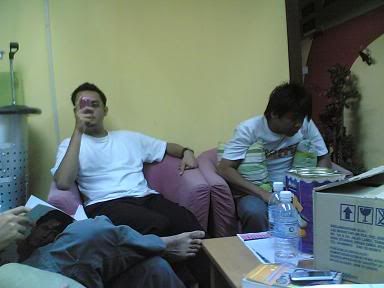 Eric and Ji.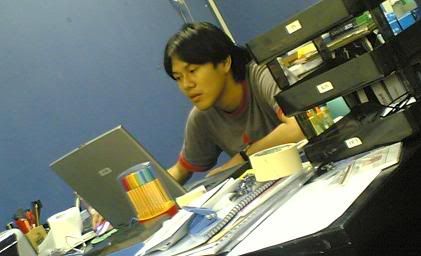 Roul.