Designing Kad Raya.
Today, after the morning appointment / presentation on branding tak jadi, we decided to have a bit of fun at the office.
So we designed and produced nice kad raya.
Rizal, our Tsar of Creativity came up with really nice ones – and of course lah I insisted:
"
Kau guna gambar aku yang nampak fresh & muda jer ok…lepas tu tolong sepia tone kan supaya tompok-tompok kat muka tu tak nampak ok…nampak comel, make sure
…". (Bossy macam siolkan?)
And here's the result.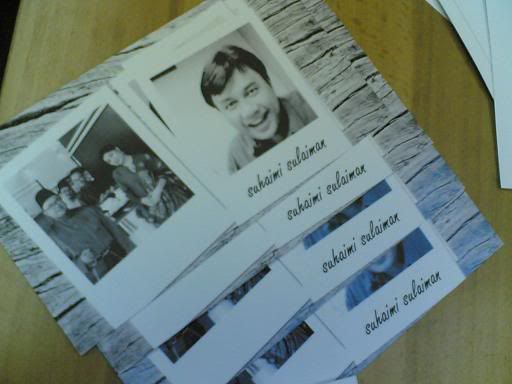 Thanks Rizal. And now Rizal tengah buat for yang lain-lain plak… Including Cekem and Ashwad yang lagi vain tu…
Before that, habis baju basah ganti air aquarium – ikan ni berak banyak betul.