Kemana lagi tumpahnya kuah....
Had teh tarik and nasi lemak with Morkymoqq in the middle of the night sampai 2 pagi in Bangsar and discussed lots of things -- from his wedding in March to business to love to midlife crisis.
Whenever I sembang ngan Moqq I can't help but feel that there's a lot of hope for the country. He is an intelligent super organized man with great leadership qualities – of courselah he was MCKK's Head Prefect in 1996.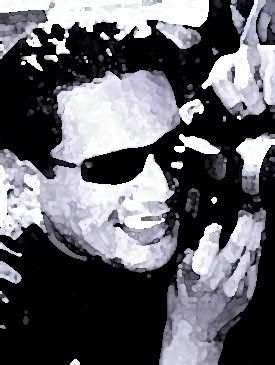 Morkymoqq in 'watercolour'
Now berjinak-jinak dalam dunia politik, I think he will one day make a good leader. After all, his dad, a charming Deputy Minister is a seasoned politician and certain 'DNA' sudah bercambah dan membiak in Moqq.
Perhaps one day Moqq will show a different kind of leadership – coz I'm tired of reading what's reported in the papers lately – leaders berbalah-balah – and what made me angry as a rakyat = I voted them in all the previous elections. Lama-lama nanti rakyat meluat. Dahlah semua barang mahal, jerebu tak hilang-hilang dan depa nak gaduh-gaduh. Lepas tu cerita semua kena spin-berbelit-belit sampai kita pening (a former journalist talking ni...).
Anyway I hope when Moqq becomes a great politician one day, politics will not kill the 'good guy' in him like what politics dah buat to many of my politician friends – depa jadi rakus.
Macam tu lah... Dalam opis pun ada politik. Jual nasi lemak pun ada politik. Pandai-pandai lah berenang. Jangan teratai layu di tasik madu.