Quddin: Playing with POP
It was a fun gathering of friends at Gemarimba Gallery, Bukit Tunku -- To see Taquddin Bahro's solo exhibition – "Quddin Playing with POP".
The exhibition will be on till Mar 4, 2006.
Quddin
As usual Husni was the perfect host in a white sports jacket (reminded me of Menudo).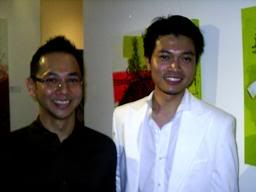 Muluk and Husni
While enjoying Quddin's various beautiful mix on canvas, I managed to catch up with Dina Zaman, Zaihani, Hazel and Habibah.
Habibah of Warisan Benang Kapas and Hazel.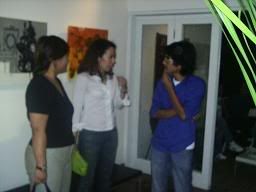 Rizal of Gemarimba talking to Dina Zaman and Nisa Ismail. Gambar blurrr sebab tangan shaking -- apalah pasal.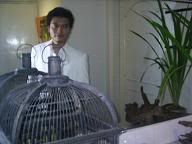 Husni & Lilin dalam sangkar (eden tak ghoti makno eh)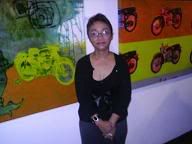 Zaihani (sober...)
Azreezal Hafidz of GLAM
You must go and see Quddin's work. Interesting indeed...
BTW Gemarimba Gallery is located at B8, Taman Tunku Apartments, Jalan Langgak Tunku, Bukit Tunku, Kuala Lumpur.
Gemarimba's number is 603-6201-3505.