MCKK ROCKS -- GOOD SHOW BOYS!!!
Zulikhwan & Affendy

Dear Muhammad Affendy Hasni & Mohd Zulikhwan Ayub,
I was in the control room and I was so proud of both of you, especially when the Astro AWANI production team in the control room said "woi, pandai budak-budak MCKK ni... lagi pandai dari some of the VIPs yang kita pernah jemput..."
And I just proudly said... "of courselah, they all budak MCKK..."
And the AWANI Production Team said...."Hmmm.... sekolah dia...patutlah puji memanjang..."
And the best part, they survived anchor Kamarul Bahrin Haron's grill. And impressed everyone.
Kam, Zulikhwan, Affendy and me at the back

----------------
Muhamamd Affendy Hasni and Mohd Zulikhwan Ayub were our guests for Sudut Pandang. This morning's recording will be transmitted at 8:30 pm, Monday, August 18, on Astro AWANI Channel 501.
They came to promote and discuss The Malay College Youths Development Summit 2008 which will be held from August 24 to 31.
This inaugural summit will see participants from Philippines, Pakistan, Singapore, India, Thailand, Vietnam, Cambodia and top schools in Malaysia.
The student leaders will exchanged ideas on community development and others during the summit.
Zulikhwan
And from the way Affendy and Zulikhwan answered Kamarul's tough questions, I believe the Summit will be a great one.
Cikgu Liza, thanks for bringing them here.
-------------------
Affendy is in the MCKK debating team and he reminded me of my younger days in MCKK.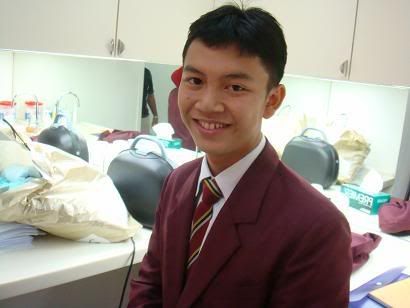 Affendy
I represented MCKK in the BM debate. We made it to the finals of Piala Perdana Menteri in 1979. Though we lost to Sekolah Tun Fatimah, we performed really well. It was televised LIVE on RTM. Yes, my 'girl-friend' masa tu dalam team STF. Nama dia Nor Hafizah Ismail, now dah Datin Nor Hafizah Ismail. The announcer at that time made a blunder though when introducing the 3rd speaker from MCKK.
He said, 'sekarang dipersilakan pembahas ketiga dari Kolej Melayu Kuala Kangsar, Suhaimi BINTI Sulaiman..." Yes BINTI, whadda..., I freaked out for 3 seconds. Then I confidently made my debut on tele... and today, I love the television-business.