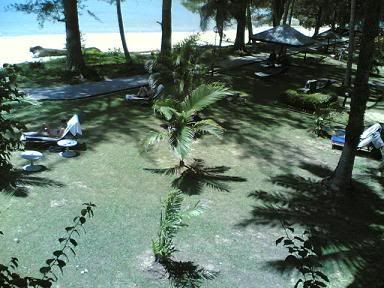 The beach from my room at Holiday Inn, Damai Beach
Got back from Kuching at 7:30 pm, yesterday.

After that, straight to Marmalade at the new Bangsar Village for my favourite Spaghetti Pesto Chicken. You must try it – sedap yang amat.

And for dessert we (me and Rizal) had carrot cake yang atas dia ada orange peel soaked dalam syrup. Wow…

The knowledge sharing session with the heads of faculties of UNIMAS at Holiday Inn Damai Beach, yesterday, was so much fun. I always believe that humour and fun will make any training session effective.

And to Dr Shahren, ampun, ya ampun, can't make it for the function on May 5. But we can still do the session on other dates kan?