Healthy Lifestyle Re-Start!!
Yes, I got up very early today to 'change'!!!
Mahu kehidupan yang lebih sihat gitu.
So I plunged into the pool and buat 3 laps (itu pun macam nak tercabut nyawa).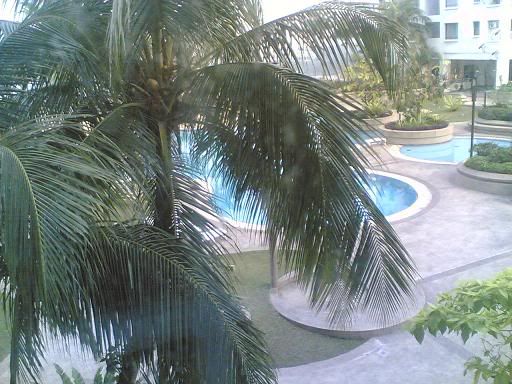 After all the swimming pool is just downstairs
Kena sign Akujanji:
1. Will consume less carbo and more protein.
2. Chocolates kena sikit kurang (so Razin, jangan nak sua Cadbury tu ok!!)
3. Banyak minum air sejuk.
4. Cuba jangan naik lift... Panjat itu tangga
Tengok berapa hari boleh tahan.
Cheers.
Lepas swimming -- Topless sambil mencuba pose "Saya belum puas" for Mosquito Magazine.
Malam ni, me and all the SSO + Netwide adik-beradiks will converge to Discover Café in Desa Pandan for our farewell makan-makan with Mokciknab... Dress code: Wear whatever tapi kena pakai tiara – yes crown tu!! Bukan kereta, ok!! Jangan pi kedai potong plak cari accessories. Tak kira jantan ker pompuan, kena pakai mahkota!