Seribu Impian, Prasarana and Red104.9
Yes. Guilty for not updating the blog. Last week was a very busy week indeed.
First, the meeting with the CEO and COO of Red104.9. We discussed ways on how we (yeah, me and the Red104.9 team) can work together and make Red104.9 the BEST radio station in the nation. I love working with the Red104.9 team. They are so funky and professional.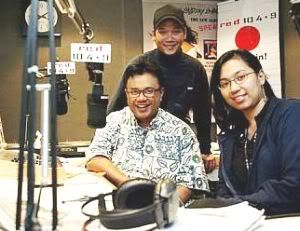 The next day, together with Ghazalie Abdullah, we conducted a special Media Training Workshop for Syarikat Prasana Negara Berhad (Prasarana). I think this country needs many people like the CEO of Prasarana, Shaipudin Shah Harun -- He is just a true leader.
And on Saturday night, we had a great time -- JAMMMMING giler with the MCOBA Band Boys -- practice for the Old Boys Weekend (April 14 - 16).
I will be singing Seribu Impian (yes, Casey's song). The band memang class -- tak sampai 30 minutes dah dapat feel. And of course, nanti takut semput, Rizal tolong nyanyi sama.
And to
Mon
-- "Sweet Child O' Mine tu memanglah gua tak leh nyanyi brader -- tak leh nak relate lagu bebudak muda ni"
Sekarang kena pikir outfit nak pakai -- Dzuf Dzuf you wear what? I think i'll design my own -- gold-gold -- nak nampak macam Firaun Khufu.