Selamat pergi Pak Andak.
This morning my dad and I went back to the place where he was born – Ramuan China Kecil in Melaka. It's a very small kampong.
The reason for the trip, my favourite uncle, Pak Andak, passed away early this morning.

Pic from www.fotosearch.com
Pak Andak was a very famous Cikgu in the kampong,
Cikgu Salleh Maatan
-- One of the early 'budak kampong' made good through good education during British-Malaya.
My dad was inspired by him.
He made dad study hard and under his wings, dad made it to the prestigious Sultan Idris Training College, SITC (today SITC is 'upgraded' to a university -- UPSI).
Dad later on got his degree from Universitas Nasional in Indonesia and moved on from being a teacher to headmaster to registrar and later to life in the corporate world.
Pic from www.fotosearch.com
According to dad, SITC was THE place to train great teachers before Malaysia's independence and many graduates of SITC were teachers of great Malaysians and they were also heroes who fought for our independence. My father's good friends at SITC who are still around include Tan Sri Awang Had and Datuk Wahab (Muluk's dad).
Pak Andak's house in Ramuan China Besar, a few kilometers from Ramuan China Kechil, was filled with people from all walks of lives – politicians, academicians, civil servants, unemployed souls and the 'kerja kampong'folks. Almost all of them are related to me.
Pic from www.fotosearch.com
We have successful ones in the extended family – accountants, teachers, educationists and we also have relatives in the middle to lower income groups.
They were just so nice to me, since I have not been back to see the
sawah and kerbau
for ages and of course my aunties took the chance of a lifetime to ask the zillion dollar question
"Bilo ekau ni nak kawin. Kek kampong ni banyak anak dagho lawa-lawa. Kawin yo lah mo orang kampong, dapek dio meraso"
Meraso? Hmmm....
Pic from www.fotosearch.com
But this trip to Ramuan China Besar made me realized (infact INSAF) two things:
1. What if all the elders were no longer around – I wouldn't know how to
mandikan jenazah!!
2. Will my poor relatives really benefit from the soon to be improved Public Transportation System with the 'funds' collected from the fuel price hike? They don't go to KL. They don't use the LRT, Monorail, RapidKL and the bridges with cracks here and there. I cried in my heart knowing that they have to pay for our convenience in KL when they are going through tough times making ends meet in Ramuan China Kechil, Ramuan China Besar and Lubok China in Melaka. Surely there must be other ways to improve our infrastructure without taxing my relatives too much...
To ayah, I love you...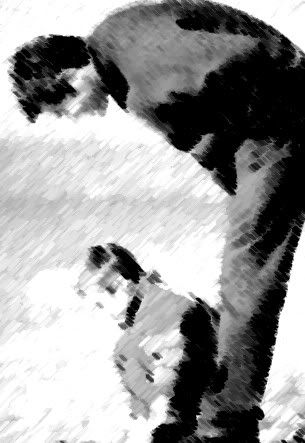 Pic from www.fotosearch.com