Al kisah penemuan tulang...
Recently I found a serpihan tulang at one corner in the office.
Hmmm... Adakah ini..
(a). Kerja tikus memindahkan lebihan makanan?
(b). Orang yang makan KFC dan tak reti kebersihan.
(c). Ada orang mahu mempraktikkan ilmu sihir.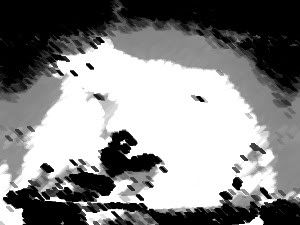 After lots of checking from the network (network ni kengkawanlah yang berilmu) ada yang frank dan ada yang tak mahu takut-takutkan member. They said:
(a). It could be tikus. But then again, apa hal tikus nak transfer tulang sampai tingkat 4. Banyak lagi office yang boleh dijadikan habitat.
(b). KFC? No, coz kita semua berdisiplin (the last time we checked).
(c). Kata En. Amin, kalau tulang burung, itu ilmu hitam orang nak buat kita malas and unproductive... hmmmmm