Kes 'parah' nah kurus dan berangan jadi model
My 'otak' can be so funny sometimes.
This morning I got up late and while berposing maut on my tatami (wearing only a renoma-- don't imagine -- nanti tak lalu makan) in front of the mirror, I berangan kalau lah I kurus.
Kalau kurus, rasanya nak duduk kat New York nak jadi model macam kat bawah ni...
Which means I need state-of-the art equipment to stretch my body to be at least 6'2".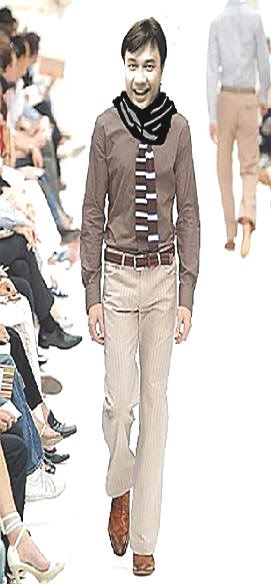 Lepas tu wanna go mempamerkan diri in Milan-Tokyo-Paris.
So I decided to have a light breakfast, dan angkat ikrar nak kurus -- nanti dah kurus, siapa yang pernah reject I dulu akan menangis begging to ambik I jadi kekasih kiut-miut. And I will look at them (yes, plural...them) and say... "cuba lagi tahun depan yer... jangan putus asa" Boleh?
But tiba-tiba datang pulak this craving for kari ayam -- so I went to makanlah kat Bangsar. Dahlah tu, after that makan lagi (this time cheese cake) kat Great Eastern Mall (ngan Shazwan and his nephew Tajul)... Calories lagi.
And tonite makan lagi at rumah papa Khalid -- And since Kak Limah is preparing the sambal -- mamposlah cita-cita nak jadi model.
Dahlah semalam makan best giler kat rumah Chef Wan. Chef Wan as usual, host extraordinaire -- makan and ketawa and makan and ketawa... After that had Salmon Sashimi with Muluk.
I guess in this country love = makan agaknya.
Anyway, Happy New Year.
BTW me and my friends will be staging a mini-concert at The Curve after 5 pm on New Year's Eve -- yes, we, non-professional singers will be entertaining people for one hour with jokes and trivial pursuit and of course songs... so datang jangan tak datang...
Cheers...