GEMARIMBA: Seni in mild dose?
Gemarimba Gallery @ Bukit Tunku
I am now suffering (read: enjoying really) from an extra mild dose of exposure to 'culture'.
All thanks to a good looking pilot + ID consultant + Gallery owner = Husni of GEMARIMBA GALLERY.
Husni & I @ REDFM
I'm now beginning to have a different perspective on 'life' (adoi... deep ni..) especially when I look at pisang after a 'berjuta-juta calories' meal at Restoran Samy.
Pisang, is actually a great work of art, with a nice balance of colours, design and form (kan aku dah kata aku dah mula gila)...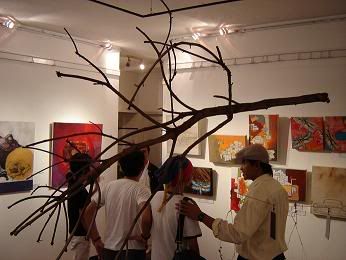 More GEMARIMBA
Anyway, hanging around Husni, especially at his beautiful art gallery -- GEMARIMBA at Bukit Tunku is 'meditation' for me -- nice to look at beautiful works of art at the Gallery.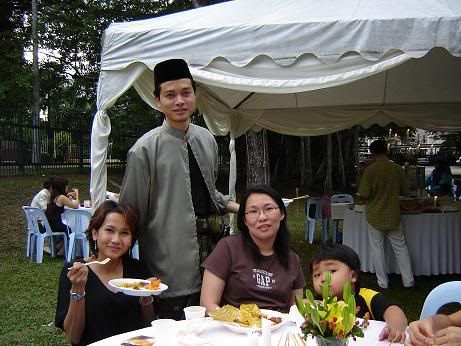 Husni & Amy Mastura & Friend @ GEMARIMBA Raya Open House
Husni was my guest on REDFM last week and we had a great time together with Tim, Shareena and Godfrey.
Godfrey, Shareena, Husni & Moi -- Tim took the pic
Yesterday, I recorded Husni for our Asiastream TV program. Soon, the world will get to see the beautiful paintings at GEMARIMBA.
Coming up soon -- Another anak seni -- Habibah of Warisan Benang Kapas -- Bib, jaga diri kau tu... jangan rokok lebih-lebih ... (alamak... I'm begining to sound like mak dara of
Ibu Mertuaku
fame... macamana nih?) After that Yazid of The Glorious Taming Sari.
After this I'll change my title to Sioux -- Sura Seni