The Interview with Oon Yeoh
Ladies and gentlemen, since sekarang ni tengah sibok giler, to fulfill your neeeds for fresh content on this blog, I dah 'copy/paste' the following article written by my friend Oon Yeoh which appeared today at http://www.msc-mgtn.net.

To Oon Yeoh, thanks for the the great write-up.

Enjoy.
------------------------------------------
Source: http://www.msc-mgtn.net.Suhaimi Sulaiman, MD of Suhaimi Sulaiman Omnimedia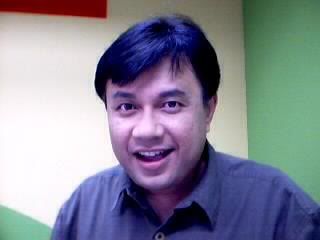 A well-known TV personality, Suhaimi Sulaiman has been bitten by the video streaming bug and is aiming to launch his own TV station – on the Net – any day now.
Suhaimi learned about broadcasting working for many years at TV3. Twelve years to be exact, where he juggled many roles including broadcast journalist, editor, producer, business development manager and content creation specialist.
After he left TV3, Suhaimi started his own company, Suhaimi Sulaiman Omnimedia with a couple of colleagues from TV3 who also felt it was time to strike it out on their own. He attached the "Omnimedia" moniker to indicate that he works with all kinds of media.
He earned his streaming stripes developing an online talk show for Cyberjaya.tv. Although that venture is now defunct, Suhaimi still believes the future of broadcast is in streaming.
Suhaimi's teamed up with the Asiastream Group of Companies, assuming the role of executive director, to turn his vision into reality.
He talks to us about his exciting new venture as well as his decision to take that bold step into technopreneurism.
Q: How did you first get involved in streaming?
A: I noticed it was a growing trend even while at TV3 and I presented it to the management. They said it would take some time to do this. But I'm an impatient person. To me, the time is now. So, together with a few colleagues, we applied for VSS (voluntary separation scheme) and used the money we got to set up our own company.
Q: How come your first joint-venture, Cyberjaya.tv, in 2003, failed?
A: Actually, there was a lot of potential with Cyberjaya.tv. We began to see revenue streaming in – pun intended, heh – after about six months. We had sponsorships from the Youth and Sports Minister, Selangor State Government, Alamanda mall in Putrajaya. But unfortunately, Setia Haruman, the parent company that owned Cyberjaya.tv, had a change of management and the new folks didn't believe in streaming.
Q: So, how did this new venture – your own TV station on the Net – come about?
A: We have always felt that Internet is the way to go. So, I didn't want to give up on streaming. We got to know the Asiastream people after they invited me to help out with website for Petronas Twin Towers. They knew that we did Cyberjaya.tv and they were impressed with our content, which they said was way better than what they saw on terrestrial TV. One thing led to another and here we are!
Q: Can you tell us a bit about your TV station?
A: It's basically TV on the Net. On normal TV you see 30 min and 1 hour programs. On the Net, the content should be short – 5 or 10 minutes long at most. The beauty of this approach is that we can later re-edit the programs for broadcast on the air or for 3G. We might even transcribe the content and edit the text for use in print media. This is convergence to the max.
Q: Will the shows be live and what type of content can we expect to see?
A: Not live. We will have a scheduled playlist just like with normal TV except that there will be archives for video on demand. The VOD stuff we might charge for. We'll have a wide range of content touching on motivational training, faith, tourism, finance, youth, innovation, entrepreneurship, health and current affairs, among others.
Q: Where is the content going to come from?
A: My partners and I will generate the bulk of the content but the rest will be done through partnerships. It'll all be shot on videocam, edited on a PC and streamed through Asiastream.
Q: Any regrets about leaving traditional media behind?
A: No regrets at all. I will never again work for anybody. Even if the position is a high one and the money is good, I won't accept. Sometimes you know better than your bosses and you know you're right but if you're just an employee what can you do? When you are your own boss, you run it the way you like it. That kind of freedom is priceless.
Q: Were you always this confident about coming out on your own?
A: We were scared. Well, I'd say we were 30% scared and 70% confident. Within two months, I knew we could make it. There's enough work out there for us to cari makan.
Q: What's the biggest challenge you face?
A: Chasing people for payment. But that's just business, isn't it?