Busy giler to get Asiastream TV on the net
Sekarang ni, tengah busy giler, so I uploadlah something from The Star untuk tatapan bersama. Thanks Sheela (of The Star) for the wonderful write up.
Good music and news updates on Red 104.9
By SHEELA CHANDRAN
Looking for a morning breakfast show with a difference? Then tune in to Red 104.9's new upbeat morning show Red Morning Affair hosted by announcers Tim and Shareena. The show, aired weekdays from 6am till 10am, is a refreshing change as it offers a good mix of music and regular news updates.
The perky show, formerly known as Kickstart, has spiced up its content by including news highlights from The Star. Every morning the announcers bring to light stories on The Star's main pages and other interesting local and international news.
If you want more news round-ups with constructive discussions, make a date with former TV anchor and broadcast journalist Suhaimi Sulaiman who co-hosts the show on Fridays at 7am. In the one-hour show, Suhaimi draws attention to the main stories that have dominated headlines over the past week while focusing on one or two specific local and international stories.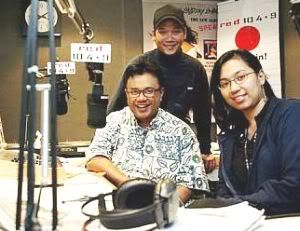 Suhaimi Sulaiman (centre) with deejays Tim and Shareena.
"The show is basically a news round-up. Every Friday, I pick a couple of major news of the week and discuss them on air. The topics aren't necessarily earth-shattering news. It may be a small story but as long as there is content and may interest people, it becomes the highlight of the week.
"Although the emphasis is on local issues, we spice it up by including international issues to have a global approach," said the 43-year-during an interview at Star RFM's headquarters in Kuala Lumpur recently.
With 13 years experience in broadcast-ing, Suhaimi who was the news and current affairs editor with TV3 starts his morning by reading five main dailies and surfing the Internet for additional information.
"I make it a point to keep abreast with the latest news. I read the newspapers for at least three hours so that I can pick up the essential news items. It's a habit I picked up at TV3 where I was required to keep updated with the news.
"As Red Morning Affair's co-host, it is vital to pick up information that listeners can relate to because the bare essentials are to educate, inform and entertain. These are the three key elements that ensure the success of any current affairs programme," said Suhaimi, who now runs his own media and perception management firm.
Among the topics Suhaimi has covered were Budget 2006, thinking out of the box and the importance of the media. He cleverly selects the topics that are light and can be easily absorbed by listeners.
To spice up the show, he invites a guest to give his/her opinion on the topic. Guests selected are those who are experts in the related fields. Among the guests who have appeared on the show were Dare to Fail author Billi Lim, Fomca chief executive officer T. Indrani and TV producer Kamarul Bahrin Haron.
"Every week guests from different backgrounds are invited to provide different perspectives on issues. On this show, we speak to different people to get views that are not stereotyped," said Suhaimi.
The show involves bouncing back opinions and thoughts between Suhaimi, Tim and Shareena. Listeners can participate in the show by calling % 03-4043 1049 or SMS RED 32733.
Said Tim: "We have positive response from listeners. We're happy to work with Suhaimi because of his vast knowledge in news. He is fun, bubbly, disciplined and has many years of experience in the industry."
Red 104.9 provides listeners with the latest news update and current affairs every hour from 7am till 7pm on weekdays. The prime news, which includes local and international news, is aired at 7am, 8am, 1pm, 5pm and 7pm on weekdays. International news updates are aired at 11am, noon, 3pm and 4pm.
For sports lovers, tune in to updates at 9am, 2pm and 6pm. At 10am on weekdays, listeners can catch business updates and the stock market report.
The station also provides traffic updates during peak hours at 7.30am, 8.30am, 5.30pm, 6.30pm and 7.30pm.