LOVE LOVE LOVE
It's 11:00 am Saturday morning.

They are playing Frank Sinatra and Billie Holiday here at Starbucks but the song Mamma Mia is still stuck in my head. Also on my mind's playlist are Money-Money-Money, Waterloo, Dancing Queen and I Do.
All because of last night… I had one of the best times of my life.

Me and 14 of my close friends and their loved ones went to GSC Pavilion (yes, we occupied 2 rows of seats) to catch Mamma Mia, starring among others, my favourite screen queen & multiple Oscar winner Meryl Streep and the man I interviewed once in a junket in Tokyo – Pierce Brosnan.

Mamma Mia is a fun and touching musical-comedy laden and laced with ABBA's hit songs sung by the talented actors and actresses.

And watching the movie with my crazy good friends who sang along throughout the movie was just fun. It reminded me of the Rocky Horror Picture Show experience.

It was also sort of a reunion for me with the people I laughed and cried with for at least half of my meaningful life on the 3rd day of Hari Raya – Kam & wife (the funky Che Yuz), Tengku Elida Bustaman, Tengku Saifuddin, Tengku Hashim and Khalid Ahmad.

And of course there were The Yang Sisters (the brilliant Joras -- I know you are reading, Prof Dr Madam Curi…and the other Lovely Doctor and hubby who is also one of the most sought after doctors in the country), Ebi the Media Strategist Extraordinaire and wife, and other members of the Kam & Yang clan.

Papa Khalid, Me, Tengku Elida, Tengku Hashim
For my anak-anak (I know you are reading this) a little bit of history...
I grew up in the ABBA era. ABBA was always on top of the charts with beautiful songs around 1975 to early 80s. When I was in Malay College, specifically in Form 2, at the New Hostel, we would spend Sundays listening to ABBA.
In those days, we didn't have CDs or DVDs. But we had cassette players. So the happening boys during that time were the boys with cassette players. I had a mini one. My dorm mates, Lokman Hashim (my senior, he was Khazanah's Datuk Azman Mokhtar's batch) and Ajip Rashidi (also my senior) had one too.
Next to cassette player, you were also 'cool' at MCKK if you owned a 'coil' water heater – untuk masak Maggi Mee…

The songs from the movie Mamma Mia transported me to the New Hostel days and it also reminded me of the day I was caught by Prefect Shahrin Ahmad for 'reading' a porn magazine with another friend (who will remain anonymous) while listening to ABBA's 'I have A Dream'.
And after the incident Prefect Shahrin and me became the best of friends. He was in Form Six and I was in Form 2. So I was like a kid brother. Today Shahrin is a high ranking police officer (hmmm… sometimes things you did when you were a kid would determine your career later on in life). But my fellow porn reader, is also a high ranking police officer today… Hahahaa.

Anyway, I would recommend you to go catch the movie. I heard Mamma Mia the musical will be staged at Istana Budaya in December. I will be there in the outfit Pierce Brosnan wore in the finale. Yes, the shining blue bell-bottom.

While I had fun with my friends at GSC, I somehow missed my wayang buddy, Paparazzo who is still enjoying Raya in the land where clans live steeped in tradition with adat adopted & adapted from Pagar Ruyung where the Undangs rule (at least on paper).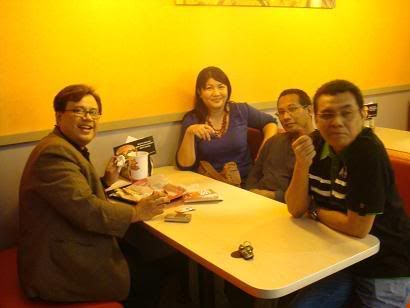 Me, Tengku Elida, Tengku Saifuddin & Tengku Hashim

************

On the second day of Raya, it was another fun Reunion. My ex-colleague and the once very famous newscaster, Azmi Aziz flew in from Putatan, Sabah with his wife Saf.

Me, Azmi, Saf and Burn (a trendy TV3 producer) had a great time reminiscing at my favourite place, Bestari Nasi Kandar at Plaza Damas.

Azmi and Saf now run a successful restaurant and catering business in Kota Kinabalu. Saf makes the best kuih tart. Azmi was a journalism graduate and Saf was once an engineer. Interesting indeed…
My other good friend Tengku Rozidar studied international relations and TESL but she is now a successful super-entrepreneur who started and now owns the 1901 Hot Dog brand.
See, a university is just a place to learn lateral thinking to plan your life.
Fikir-fikirkan, selamat beramal…

*****************

At about 1:20 in the morning, I was on the phone complaining to Celcom because my mobile broadband failed to function.
The reply I got was far from satisfactory, though the guy who attended my call was quiet courteous. But the script he read was so patronizing as if customers ni bodoh. Datuk Shazally, apa ni?

******************
And guess what? Ethan just walked into Starbucks with his training gear. He is preparing for the marathon. He is fit tip-top shape. Oh... I hate all these health freaks!!! Make me feel so ugly with my Basmati Rice body. Ethan, just eat OK... Don't ask how many calories? I would have to stop typing on my laptop or else Ethan would say I am ignoring him and would ask me to marry my Sony Vaio...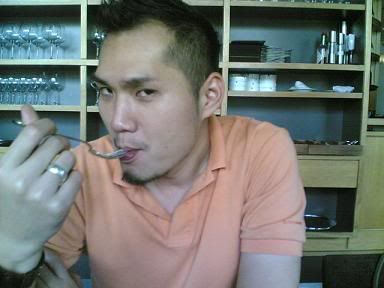 Ethan enjoying his cake
******************