Super Sunday with Friends and Making Super Bucks from Climate Change
I just love Sunday mornings and will be up as early as 7:30am.
I don't believe in sleeping-in as my mom has ingrained in me -- "kena pintas masa & pintas kerja" as we will never have enough time to get things done, so we must be smart in managing time.
Very early on Sunday I'll lepak at my favourite kedai mamak, Restoran Bestari at Plaza Damas. I love the ambiance more than anything. The food, ok lah...
Zan Azlee
Sunday is also the time for me to catch up with good friends.
Pagi tadi, had an interesting chat with Zan Azlee, over roti canai.
Zan is a very talented journalist, producer, director.
We talked about his latest 75 min documentary -- his journey to Iran, Jordan, Syria and Lebanon capturing visuals of modern Muslims in their 'contemporary world'. We viewed some clips of the video -- awesome!! They have heavy metal bands in Iran -- hmmm... interesting... And.. Computer Games designed by Hezbollah... yer beb, funky gila.
Me and Zan once worked together for Cyberjaya TV, the now 'direhatkan' internet television. Not many people paham bebetul the vision to go global with local content at minimal costs but maximum impact... or maybe we were too early, too ahead of the curve.
Zam has produced lots of content and quite a number of them have been shown on terrestrial TV in Malaysia. His films have been shown at Berlin International Film Festival, Bangkok International Film Festival and New York Asian-American Film Festival.
You can view his work at http://www.fatbidin.com/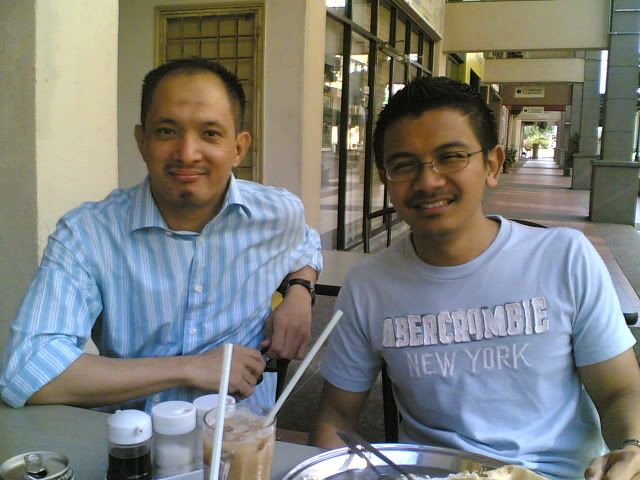 Ariff-Iman & Reed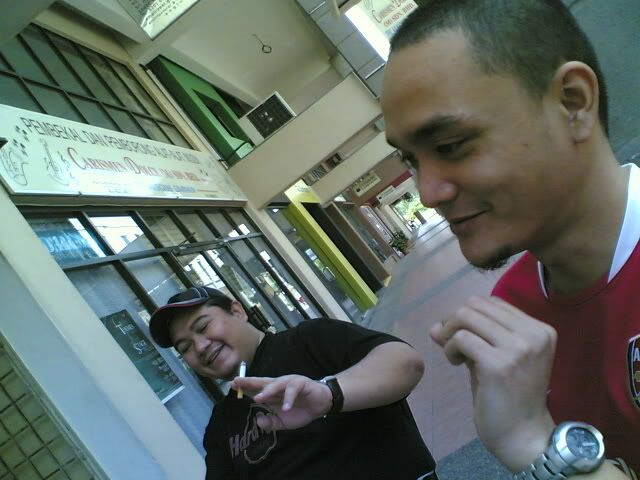 Mazlan & Yo
Pagi tadi jugak the old gang lepak sokmo.
With regular -- Zaihani, turut serta were Reed Shamsuddin, Ariff Iman Sum, Yo and Mazlan.
What we talked about? Manyak lahsia worrr... kenot tell.
And we missed Burn... Burn setakat nak cukup beauty sleep... tolonglah.
While waiting for them to arrive, I read a very interesting article on Markets-Bloomberg Magazine on very rich people making so much money riding on the Climate Change Movement.
What they do is invest in Carbon Dioxide, the principle cause of global warming. Markets now enable power companies, refineries and factories to buy and sell the right to pollute once regulators cap emissions level. Conceptnya...
Now, kalaulah kita cepat sikit and ada vision yang tajam & forward thinking/planning, we could have gone to the markets and dictate the rules, introduce unthinkable contraptions etc. Now the people with lots of money, again, make millions, in the name of global warming. Pikior pikior ler... teman risau jugak..
And yesterday, the recording for AWANI's Perspektif Kita went very well.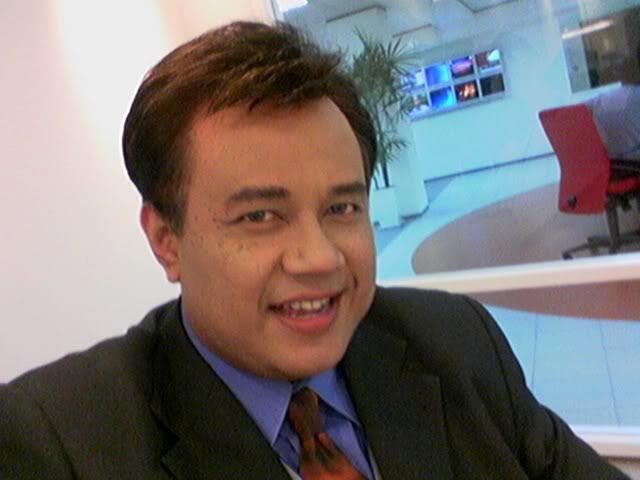 We discussed our quest to be among the best in the world in Mathematics and Science. You must see this episode on Channel 123 Astro (AWANI). Great debate with very opinionated Malaysians.
The show times:
Monday: 11:30 pm.
Tuesday: 3:30 pm.
Wednesday: 10:00 am.
Thursday: 3:30 pm.
Cheers.